Hello and welcome to my blog!
Since we are all here cute book worms I thought it might be fun to write down a list of some books that were released this week. Unfortunately I can not put them all on this list, so I decided to share those which were the most appealing to me and have good Goodreads rating. On this list I will include link to Goodreads, book synopsis copied from Goodreads and link to Bookdepository where you can buy books with free worldwide shipping!
LUCKY GIRL by Amanda Maciel
Being a pretty girl is who Rosie is, but it's the start of a new school year and she wants to be more. Namely, she's determined to be better to her best friend, Maddie, who's just back from a summer program abroad having totally blossomed into her own looks. Rosie isn't thrilled when Maddie connects with a football player who Rosie was hooking up with—but if it makes her friend happy, she's prepared to move on. Plus someone even more interesting has moved to town: Alex, who recently garnered public attention after he stopped a classmate from carrying out a shooting rampage at his old high school. Rosie is drawn to Alex in a way she's never really experienced for a boy before—and she is surprised to discover that, unlike every other guy, he seems to see more to her than her beauty. Then one night, in the midst of a devastating storm, Rosie suffers an assault that tears apart her life and friendship with Maddie. Forced to face uncomfortable truths about beauty, reputation, and what it really means to be a friend, Rosie realizes that change doesn't always happen the way you want it to—every disaster has consequences. But with a lot of help and the right people around you, there might also be a way forward.
Check out this book on Goodreads here.
Buy this book with FREE worldwide shipping here*.
180 SECONDS by Jessica Park
Some people live their entire lives without changing their perspective. For Allison Dennis, all it takes is 180 seconds… After a life spent bouncing from one foster home to the next, Allison is determined to keep others at arm's length. Adopted at sixteen, she knows better than to believe in the permanence of anything. But as she begins her third year in college, she finds it increasingly difficult to disappear into the white noise pouring from her earbuds. One unsuspecting afternoon, Allison is roped into a social experiment just off campus. Suddenly, she finds herself in front of a crowd, forced to interact with a complete stranger for 180 seconds. Neither she, nor Esben Baylor, the dreamy social media star seated opposite her, is prepared for the outcome. When time is called, the intensity of the experience overwhelms Allison and Esben in a way that unnerves and electrifies them both. With a push from her oldest friend, Allison embarks on a journey to find out if what she and Esben shared is the real thing—and if she can finally trust in herself, in others, and in love.
Check out this book on Goodreads here.
Buy this book with FREE worldwide shipping here*.
NORTH OF HAPPY by Adi Alsaid
Carlos Portillo has always led a privileged and sheltered life. A dual citizen of Mexico and the US, he lives in Mexico City with his wealthy family, where he attends an elite international school. Always a rule follower and a parent pleaser, Carlos is more than happy to tread the well-worn path in front of him. He has always loved food and cooking, but his parents see it as just a hobby. When his older brother, Felix—who has dropped out of college to live a life of travel—is tragically killed, Carlos begins hearing his brother's voice, giving him advice and pushing him to rebel against his father's plan for him. Worrying about his mental health, but knowing the voice is right, Carlos runs away to the United States and manages to secure a job with his favorite celebrity chef. As he works to improve his skills in the kitchen and pursue his dream, he begins to fall for his boss's daughter—a fact that could end his career before it begins. Finally living for himself, Carlos must decide what's most important to him and where his true path really lies.
Check out this book on Goodreads here.
Buy this book with FREE worldwide shipping here*.
LOOKING FOR GROUP by Rory Harrison
Dylan doesn't have a lot of experience with comfort. His room in the falling-down Village Estates can generously be categorized as "squalid," and he sure as hell isn't getting any love from his mother, who seemed to—no, definitely did—enjoy the perks that went along with being the parent of a "cancer kid." His only escape has been in the form of his favorite video game—World of Warcraft—and the one true friend who makes him feel understood, even if it is just online: Nuba. And now that Dylan is suddenly in remission, he wants to take Nuba on a real mission, one he never thought he'd live to set out on: a journey to a mysterious ship in the middle of the Salton Sea. But Nuba—real-life name Arden—is fighting her own battles, ones that Dylan can't always help her win. As they navigate their way west, they grapple with Nuba's father (who refuses to recognize his daughter's true gender), Dylan's addiction, and the messy, complicated romance fighting so hard to blossom through the cracks of their battle-hardened hearts.
Check out this book on Goodreads here.
Buy this book with FREE worldwide shipping here*.
SAINT DEATH by Marcus Sedgwick
In a shack on the outskirts of the border city of Juarez, a teenage boy is visited by a long-lost friend. Arturo scrapes together a living working odd jobs and staying out of sight. His friend Faustino has joined one of the city's violent drug gangs. Now Faustino is in trouble: he's stolen money from the narcos to smuggle his girlfriend and her baby into the U.S., and he wants Arturo's help getting it back before they kill him for what he's done.
Check out this book on Goodreads here.
Buy this book with FREE worldwide shipping here*.
IT HAPPENED ON LOVE STREET (Everland, Georgia #1) by Lia Riley
The most romantic place she never wanted to be . . .
Pepper Knight moved to Everland, Georgia, as step one in her plan for a successful legal career. But after this big-city gal's plans go awry, going home with her tail between her legs isn't an option. So when the town vet-and her sexy new neighbor-offers Pepper a temporary dog-walking job, she jumps at the chance. No one needs to know that man's best friend is her worst nightmare . . . or that Everland's hot animal whisperer leaves her panting. The last thing Rhett Valentine wants is to be the center of small-town gossip. After his first love left him at the altar, he's been there, done that. These days, life is simple, just the way he likes it. But sultry southern nights get complicated once sparks fly between him and the knockout next door. When she proposes a sexy, secret fling-all the deliciousness and none of the prying neighbors-it seems too good to be true. And it is. Because Pepper's determined to leave Love Street, and when she goes, she just might take his heart with her . . .
Check out this book on Goodreads here.
Buy this book with FREE worldwide shipping here*.
MAKING WAVES (Beach Lane #1) by Laura Moore
As the responsible daughter of an irresponsible socialite, Dakota Hale has plenty of practice catering to the whims of the rich and spoiled and she's turned that experience into a thriving concierge business serving the needs of the Hamptons' wealthy elite. But living and working among the upper crust has never tempted Dakota to follow in her mother's jet-setting footsteps. Anytime the drama on land gets too outrageous, Dakota finds calm surfing the Atlantic waves. But when sexy mogul Max Carr hires her, it rocks her balance in a big way. Max works hard, but he's never had to put any effort into winning over a woman until now. With her stunning beauty and keen intelligence, Dakota is worth the effort. But it is plain she has no interest in a casual fling, and that's all Max with his grief-stricken heart can offer. But one fraught night changes everything, with consequences neither Dakota nor Max anticipated. Now they must navigate the rough waters of society gossip and devastating secrets that threaten their fragile relationship. If they can trust in the strength of their growing feelings, they ll find that the dreams they ve been chasing are close enough to embrace . . . together."
Check out this book on Goodreads here.
Buy this book with FREE worldwide shipping here*.
LOST RIDER (Coming Home #1) by Harper Sloan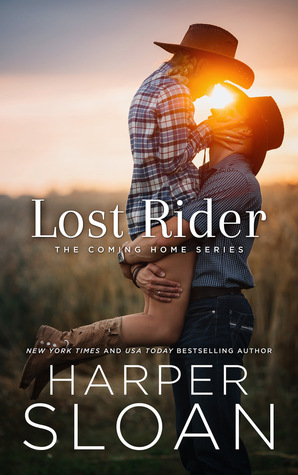 Maverick Austin Davis is forced to return home after a ten-year career as a rodeo star. After one too many head injuries, he's off the circuit and in the horse farming business, something he's never taken much of a shine to, but now that it's his late father's legacy, familial duty calls. How will Maverick find his way after the only dream he ever had for himself is over? Enter Leighton Elizabeth James, an ugly duckling turned beauty from Maverick's childhood—his younger sister's best friend, to be exact, and someone whose heart he stomped all over when she confessed her crush to him ten years back. Now Leighton is back in Maverick's life, no longer the insecure, love-stricken teen—and Maverick can't help but take notice. Sparks fly between them, but will Leighton be able to open her heart to the one man who broke it all those years ago?

Check out this book on Goodreads here.
Buy this book with FREE worldwide shipping here*.
PURPLE HEARTS by Tess Wakefield
When a soldier with a troubled past and a struggling songwriter agree to a marriage of convenience for the military benefits, neither expects much after saying "I do." Then tragedy strikes, and the line between what's real and what's pretend begins to blur in this smart and surprising romance perfect for fans of Nicholas Sparks and Jojo Moyes.
Cassie Salazar and Luke Morrow couldn't be more different. Sharp-witted Cassie works nights at a bar in Austin, Texas to make ends meet while pursuing her dream of becoming a singer/songwriter. Luke is an Army trainee, about to ship out for duty, who finds comfort in the unswerving discipline of service. But a chance encounter at Cassie's bar changes the course of both their lives. Cassie is drowning in medical bills after being diagnosed with diabetes. When she runs into her old friend Frankie, now enlisted in the Army, she proposes a deal: she'll marry him in exchange for better medical insurance and they can split the increased paycheck that comes with having a "family." When Frankie declines, his attractive but frustratingly intense friend Luke volunteers to marry Cassie instead. What she doesn't know is that he has desperate reasons of his own to get married. In this unforgettable love story, Cassie and Luke must set aside their differences to make it look like a real marriage…unless, somewhere along the way, it becomes one…
Check out this book on Goodreads here.
Buy this book with FREE worldwide shipping here*.
I FOUND YOU by Lisa Jewell
A young bride, a lonely single mother, and an amnesiac man of dubious origin lie at the heart of New York Times bestselling author Lisa Jewell's next suspenseful drama that will appeal to fans of Liane Moriarty and Paula Hawkins. In a windswept British seaside town, single mom Alice Lake finds a man sitting on the beach outside her house. He has no name, no jacket, and no idea how he got there. Against her better judgment, she invites him inside. Meanwhile, in a suburb of London, twenty-one-year-old Lily Monrose has only been married for three weeks. When her new husband fails to come home from work one night she is left stranded in a new country where she knows no one. Then the police tell her that her husband never existed. Twenty-three years earlier, Gray and Kirsty are teenagers on a summer holiday with their parents. Their annual trip to the quaint seaside town is passing by uneventfully, until an enigmatic young man starts paying extra attention to Kirsty. Something about him makes Gray uncomfortable—and it's not just that he's playing the role of protective older brother. Two decades of secrets, a missing husband, and a man with no memory are at the heart of this brilliant new novel, filled with the "beautiful writing, believable characters, pacey narrative, and dark secrets" (London Daily Mail) that make Lisa Jewell so beloved by audiences on both sides of the Atlantic.
Check out this book on Goodreads here.
Buy this book with FREE worldwide shipping here*.
BURNTOWN by Jennifer McMahon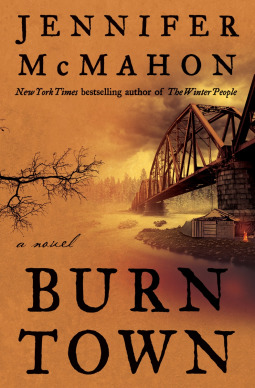 Eva grew up watching her father, Miles, invent strange and wonderful things in the small workshop behind their house on the river that runs through their old mill town. But the most important invention of all was the one that Miles claimed came from the mind of Thomas Edison himself–a machine that allowed one to speak with loved ones long passed. Smuggled out of Edison's laboratory, the blueprints were passed down to Miles, and he's been using them to protect Eva, her mother, Lily, and her brother, Errol, ever since. Then, one night when a storm is raging and the river is threatening to flood, the machine whirrs to life on its own. Danger, it says. You're in terrible danger. The next thing Eva knows is waking up on the side of the river and seeing her mother's grim face. Eva's father and brother are dead, their house has been washed away and an evil man is searching for them both. They need to hide. Eva changes her name to Necco–a candy she always loved–and tries to put everything in her past behind her as she adapts to her new life off the grid. But when her boyfriend is murdered and her mother disappears, she knows that the past is starting to catch up to her. What really happened the night of the flood? As Necco searches for the truth, her journey unites her with two women who are on desperate quests of their own. And as the trio follows the clues to solving the mystery of Necco's past, they discover that sometimes it's the smallest towns that hold the strangest secrets.
Check out this book on Goodreads here.
Buy this book with FREE worldwide shipping here*.
Hopefully you found this post useful and hopefully I will be able to do blog posts like this every week.
If you are an author or a publisher and you want me to include your book on this kind of list please an email at blissfullifeproject@gmail.com for consideration with title, release date and synopsis.
Until next time,
N.
_________________________________________________________________________________________
*links marked like this are affiliate link.